Mason Construction has relied on Hercules Machinery products since 2008 to help them complete a variety of projects. 
"I just wanted to drop you a line to let you know that even during these trying times, our Movax units have helped keep our piling crews busy once again and have offered us the versatility that we need to stay competitive and diversified when we have needed it most. As you know we picked up our first SP-80 in 2008 when we embarked on an emergency flood protection project for one of our petrochemical customers after they were flooded by Hurricane Ike. Due to the limited levee access there was no way to possibly mobilize a crane to construct the sheet pile flood wall, but our Movax SP-80 mounted on a zero tail-swing Komatsu PC308 fit like a glove. We were able to perform the entire work scope without incident and this project set the stage for us being asked to be their flood protection consultation and construction partner on 2 other future phases. That same SP-80 has served us well and is still going strong today. We had roughly 7,000 hours on it when we had you perform the refurb job on it, because it was just too good of a machine to sell. It looks and runs like new still with over 8,000 hours on it.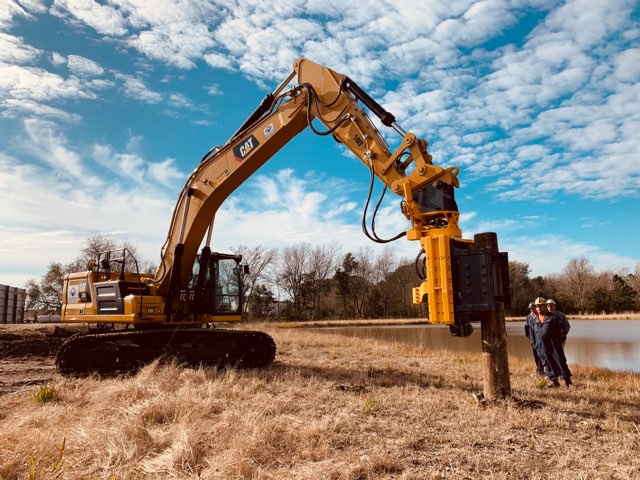 To date we have purchased an additional SP-80 mounted on a CASE 350 and our SG-75V and DH-35 Hammer reside on a CAT 336. This has been an unbelievably effective combination for us with the number of jaw options available to perform basically any kind of low headroom or restricted access pile available to us. These machines give us the advantage to place piles in locations that no other contractor is able to attempt in our area and have paid for themselves time and again with repeat business from our customers who find work for us to do with them machines because they appreciate how quickly we are able to mobilize, perform the work safely and move out so that they can get back to business as usual without disrupting their operations. In the past, we performed quite a bit of low headroom/restricted access augercast piles, which are time consuming and messy, especially when you are working within the confines of a working unit. Our Movax equipment has allowed us to provide alternate pile options on numerous occasions and draw a crowd anytime we pull up on site. These machines create a lot of buzz on site when they are working and sell themselves on future work with the right operator in the seat. Additionally, our TAD-32 drill has also allowed us to drill in locations that other rigs can't access as well because of the additional reach with the stick. Another great tool in the toolbox.
I just wanted to say thanks for the help with these products, as well as for the technical and service support anytime we need it. Be sure and pass our thanks on to the guys in Finland, as well as the HMC family for building a tool that does everything it claims it can do. (And more. You know we get creative on a regular basis….)"
If you are looking for reliable technical and service support, contact our sales team to see how HMC can help on your next foundation piling equipment purchase.