Welcome to the Movax SG-75V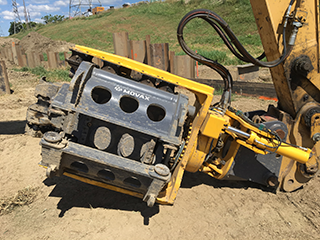 Designed to match the capabilities of larger excavators, while combining robust structure and excellent pile handing. The Movax SG-75V is a high frequency pile driver with variable eccentric moment (*See Below). This minimizes the disturbance of surrounding environment by operating at a high frequency, and by avoiding an oscillation at natural frequencies of the soil and the surrounding structures. The Movax SG-75V is fitted with heavy-duty arms/clamps capable of driving a wide range of piles including: sheet piles, H-piles, tubular steel piles and other pile sections. It is operated with the Movax Control System (MCS™)which allows the operator to control all MOVAX operations, and commands the auxiliary hydraulics of the excavator. The MCS is available in two versions: MCS Pro and MCS Lite. Reporting and documentation of piling works with M-logbook™ (requires MCS Pro).
Discover how the SG-75V can transform your business. Call us today to find out how you can order an SG-75V.
Download for Movax SG-75V Product Specifications Sheet
 *Variable Eccentric Moment:
Disturbances to the surrounding environment can be minimized by operating at high frequencies to avoid oscillation at the natural frequencies of the surrounding structures.
MOVAX SG-V-models are high frequency vibratory pile drivers with variable eccentric moment. Resonance-free start-up and shutdown means the SG-V-models are the ideal choice when working in urban areas, near historical buildings or in any sensitive environment. In addition to safer vibration, the SG-V-models also causes less noise and is faster and more comfortable to use.
SG-V-models share the MOVAX Modular System (MMS™) and all the features of the other members of the SG product family. The change of the grip is fast as there is also no need to wait for the vibration motion to end before opening the jaws.
Standard
SG-models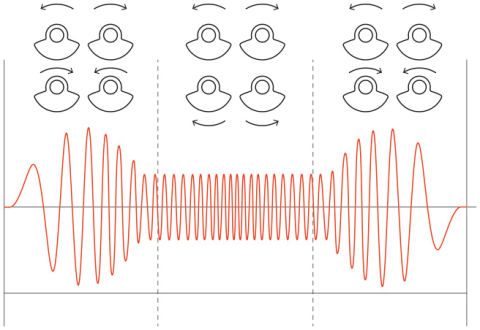 Resonance free
SG (V)-models
For more information Contact Us or call 800-348-1890.